The Get Your Hopes Up | Olive Hat
FREQUENTLY ASKED QUESTIONS
Yes! We'd love to help you customize an order. If you see a design you love but want it on a different style or color, please email info@scarletandgoldshop.com.
Customization options are limited to stock availability. We also cannot change ink colors, so the tee, crop or sweatshirt color you choose must work with the ink colors offered.
Due to inventory availability, some colors might sell out. If you see something you like, grab it while you can.
The products in this collection are printed on demand. That means production takes 7-10 business days and then your order will ship out.
We accept returns for apparel items ONLY. All other products are final sale. Please email us within 5 days of receiving your order if you need to return something.
Yes! All of the items in this collection are available for local pick up from our shop in Auburn, Alabama.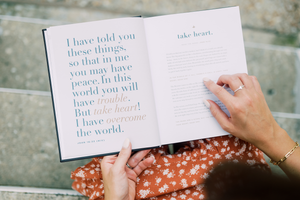 You can overcome the hard stuff.
A weekly guided journal for facing your giants and slaying them one by one.
LEARN MORE
SHOP NOW
Encouraging you through two of life's hardest seasons:
infertility & motherhood
Hi, I'm Megan and I'm really glad you're here.
My story is full of trials and triumphs from some of the most impactful experiences in my life, and I'm here to share it all with you, friend. My life looks nothing like I planned. I had the story written for my life exactly how I wanted it to go and then I found myself starring down the hardest mountain I've ever faced. The mountain called infertility.
Through my journey TO motherhood, I learned that God's plans are best. And my journey THROUGH motherhood hasn't been easy either. With 3 wild boys 5 and under, I spend my days just trying to keep up with them and stay out of the ER. My prayer is that you find encouragement, joy and community here in the middle of your journey.
SHOP NOW
Experiencing
Infertility
Four years of infertility. Two rounds of IVF. That was not my plan. From the moment the doctor told us IVF was our only option for getting pregnant, my head started to spin as my world turned upside down. 
I know what you may be thinking--now you have three babies to show for it, Megan, so surely you're ok...right? Well, my answer is yes and no. Am I thrilled to be a mom?! Yes, to my core. Did infertility break me and shape me in ways that will never be erased? Yes, a million times yes.
Infertility is not something you just move on from once you have a baby. Yet, while I experienced so much pain in that season, I was also awakened to so much grace. So much so that it changed my life in a way I just can't keep to myself. I wrote a book all about my story and the abundant grace that changed my life.
GET THE BOOK
Becoming
a Mother
Becoming a mama was my dream, and it finally came true after one heck of a fight. We began with our twin boys, and anyone who is the mother of multiples knows it's a journey all its own. They not only stretched my body a little extra, they stretched EVERYTHING, including my marriage, to the max. 
We welcomed our singleton James, and experiencing life with just one newborn has been really sweet and redemptive. Motherhood teaches me things every day, and I pass those lessons right along to you. And please, will you pass some of your own lessons right back to me? We mamas gotta help each other out!
FOLLOW MEGAN