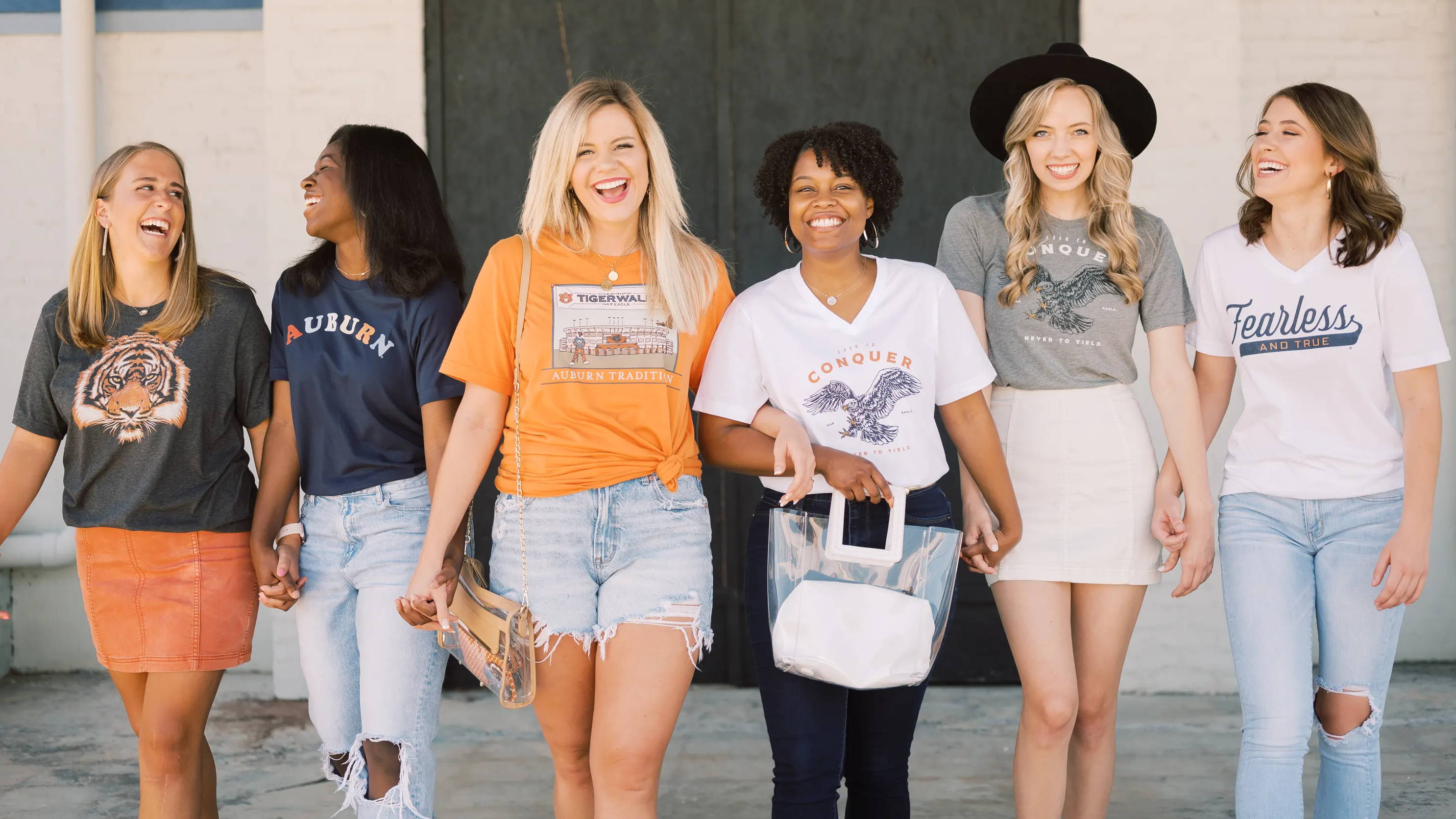 All Auburn & Alabama designs are officially licensed and a portion of sales goes to support university scholarships.


---
---
---
---
---
---
---
---
---
---
---
---
ALL THE LAUNCH DAY DETAILS
When?
The new collection goes live on our website Saturday, August 1st at 9AM CST.

Free shipping?
Subscribe here to get your launch day only free shipping code.

Free gift with purchase?
We are giving away one free shirt ($30+ value) per order to the first 75 orders on launch day. These are non gameday shirts from our shop and we will try our best to match the sizing of shirts in your order.

Order on launch day?
We strongly recommend placing your order on Saturday, the 1st. Due to Covid, we are still experiencing slight production delays and this will allow us ample time to get your order delivered before the first game.

What's launching?
Adult, youth, toddler & baby tees + baby onesies. More products will be launching later in August.
---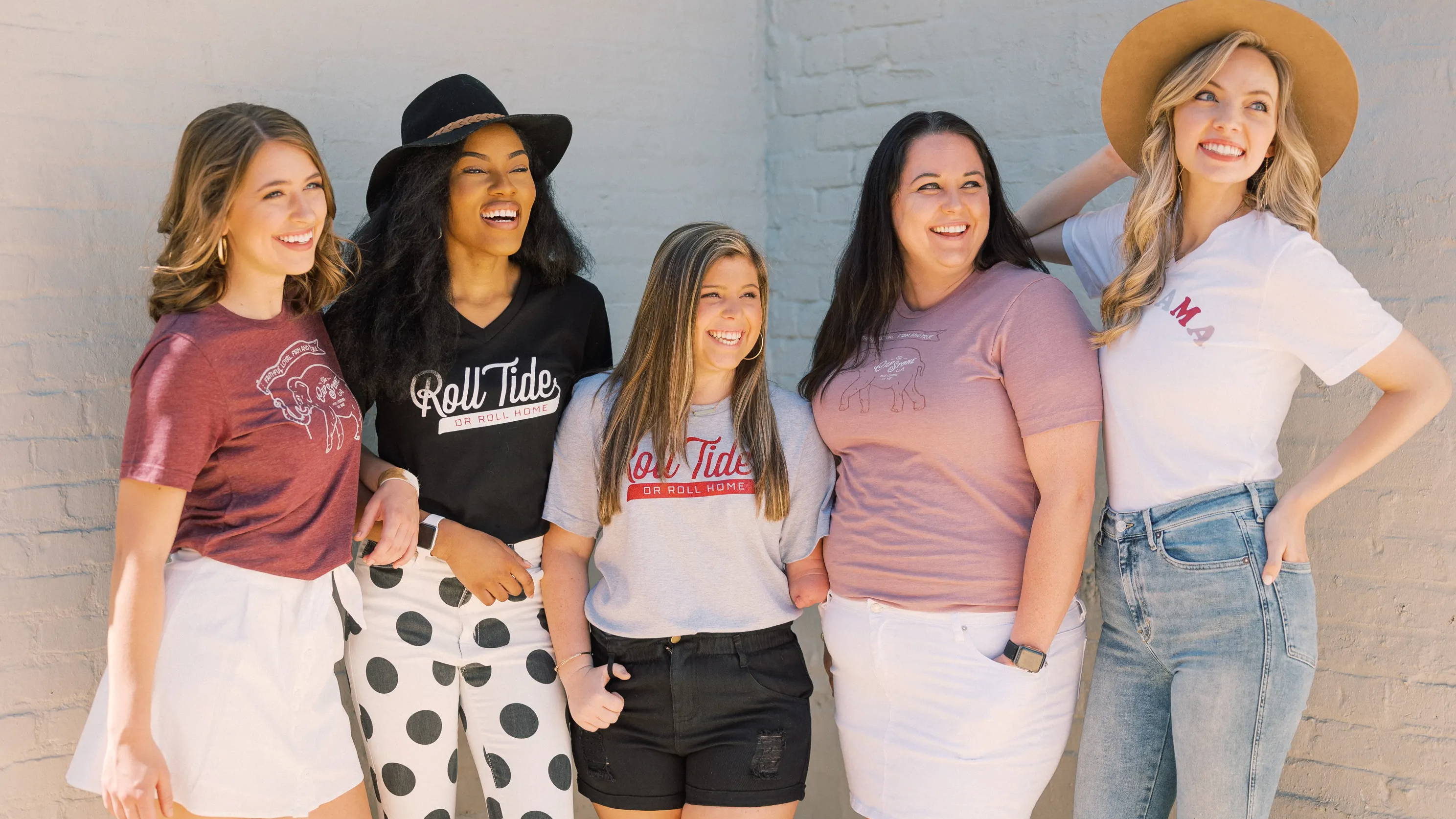 ---
Knowing what size to order can be hard, especially when ordering online. So, we want to help you make as confident of a decision as possible. Here are some things to note:

1. Our shirts are unisex. The new designs are all printed on Bella & Canvas tees so if you have one of those lying around, the sizing should be close.

We also offer a size guide here that explains the difference in our tees.

2. If you are between sizes, we always recommend choosing the larger size. I personally would much rather my shirt be a little big than a little small.

3. Think about how you want to wear the shirt before ordering. For a tucked in look, I'd go with the smaller size so that there isn't a ton of extra fabric above the tuck. If you're wanting a more oversized look or to wear it tied up, I'd go with the bigger size.

4. We are now offering returns on apparel only! Hip hip hooray!! We hope this eases your mind when ordering because if you order the wrong size, you can now return it. Please make sure you read our return policy in full before launch day. All returns must be SHIPPED BACK to us within 5 business days of delivery. We cannot budge on this, so please make sure you try your shirts on when they arrive.

***Also, we are asking all customers to please avoid ordering multiple sizes of the same shirt if you are unsure on sizing. This makes things very hard on a small business as we have very limited avenues of reselling returns. Please, please, please just order the size you think you need and if it doesn't fit, you can return it and reorder another size.***

5. Kids tees are now offered in youth, toddler & baby tees + onesies. All sizing should run true to size, but when it doubt, order up. I always order up a size for my boys because they can wear the shirt longer. Also, all measurements for kids tees/onesies are at the bottom of the product description. If you're still in doubt, please use these measurements to compare against a tee / onesie that fits well.

I hope this information helps make the ordering process more smooth. Please reach out if we can answer any questions - info@scarletandgoldshop.com.